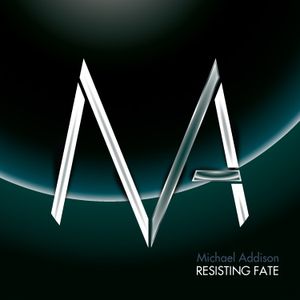 RESISTING FATE REVIEWS:
"

4.0 Stars - Very Good"
-THE CELEBRITY CAFE
(link)
"

Listening to Michael Addison's album, Resisting Fate, is like laying in the grass on a summer day and watching the clouds slide by while you think of childhood and ice cream and former lovers. And then, there is lightening. The guitar wails, the tempo accelerates and you are hooked." 
"Alt rocker Addison shows us a deep, melodious side that merges euphoria, melancholy and electricity in a harmonious stream that sometimes floats you gently and sometimes carries you over emotional rapids. But in the end, when the music fades and leaves on the shore of your consciousness, your first inclination is to get back in the boat, hit replay on your iPod, and go for another sail. I had the opportunity to talk with Michael about his emotional rapids and the new album, Resisting Fate."
-VENTS MAGAZINE (link)
"

A whole different Michael Addison, replaced by a wonderful broad-voiced artist with a meloday driven emotional style."
-MUSIC JUNKIE PRESS
(link)
"Michael Addison is a songwriter that fearlessly explores all aspects of human emotion and how it responds to music and the melodic human voice.  His  acoustic guitar carries  the ebb and flow of vocals that sometimes whisper and sometimes soar, but always make a connection."
-MUSIC FRIDAY LIVE
(link)
"The highlight song on the album, WE'LL BE COMING HOME, is so beautifully constructed with the rhythm guitar establishing a landscape and your voice and lyrics coloring it."
-HOLLYWOOD PROGRESSIVE MAGAZINE
(link)
"Addison shows off an effortless harmonic and subtle side.."
"The steady hum of the acoustic guitar aids the ebb and flow of the whispering vocals, encompassing a beautiful harmony that floats along
.."
-MUSIC ARTISTE MAGAZINE
(link)
"

It seems to work given the all the awards (Addison) has won."




"(Addison) has a lot of styles that you can chose from now"
-REVOLUTION 360 MAGAZINE "PEOPLE THAT MATTER" (link)
"

All the elements of the track come together in an expertly crafted sound that truly brings the story to life."
"..raising the listener's belief in the heartfelt words and inseparable love story developed throughout the lyrics."  
"Known for his intense songwriting, unforgettable melodies and heavily constructed instrumentation..."
-NATALIE'S WORLD MAGAZINE
(link)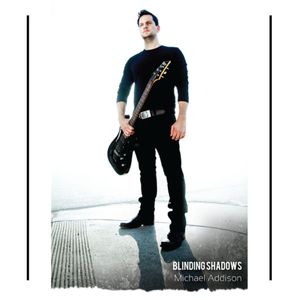 BLINDING SHADOWS REVIEWS:
"Blinding Shadows
can only be described as a well-rounded, straight up rock album written by an artist with an ear for catchy songs."
"incredible talent, and in more ways than one."  
"Just remember, you heard about him here first."
-7 BIT ARCADE (link)
"Classic Punk, with a little bit of Grunge"
"excellent instrumentation throughout the record"
"an album of extremely tight melodies, delivered at a blistering pace and brought together by Michael Addison's understated vocals"
"safely be described as epic"
"Blinding Shadows is a solid album.  Michael Addison is a great songwriter"
-ALTSOUNDS (link)
"a truly powerful rock album that magnifies Addison's talent"
"Addison tackles a huge sound with dedication and an ear for honesty."
"There is no doubt that "Blinding Shadows" pushes Addison to greater heights as an artist and songwriter, making this his best collection of songs to date!"
-SCRINK.COM (link)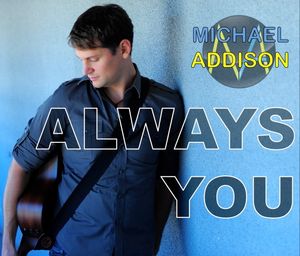 ALWAYS YOU REVIEWS:
"He not only blesses us with insightful, romantic song writing but a voice that reaches sweet highs and baritone lows and all in the right places."
"It's easy to see and hear why Los Angles has adopted him as a favorite son on the music circuit. It's also a cinch that he'll draw the best and brightest musicians to play his music."
"You'll be hearing his name a lot, no doubt."
-THE DIRTY LOWDOWN (link)
"ALWAYS YOU is the clear standout"
"an infectious, upbeat tune that stays in your head for days"
"Nothing else comes close to the remarkably catchy title track"
-NOW THIS ROCKS! (link)
"The music has a little bit of everything... take a piece of early Goo Goo Dolls with a spoon of Crash Test Dummies and add a touch of Dashboard Confessional but don´t forget to spice it up with R.E.M and you´ll get ALWAYS YOU."
"The songs are well performed."
"Cool. "
-MELODIC NET (link)"the pop infused track takes you on an acoustically driven sonic journey through heartbreak, mystery, and pure disaster"-SKOPE MAGAZINE (link)